Our water cleanup services encompass sewage backup cleanup, mold removal, water restoration, etc. Our certified technicians will work diligently to restore your property to a healthy and clean condition.
As a premier water damage restoration company in Indianapolis, we strive to provide our clients with the highest level of service.
Our Professional Water Cleanup Services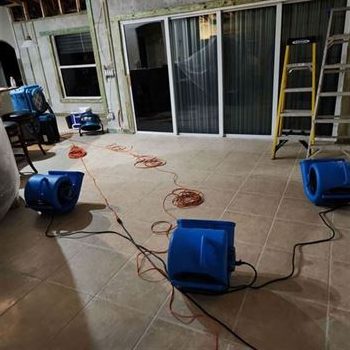 If you are faced with a burst pipe, overflowing toilet, leaky faucet or flooding due to storms or frozen pipes in wintertime, our professional water damage cleanup services are essential. A delay could result in extensive property damage as well as health risks from mold growth or a flooded basement. Don't put off taking action until after the fact.
We make it our business to provide you with all the necessary services for water removal and moisture mitigation tasks. These include various extraction and drying technologies that our highly experienced technicians are trained on to handle any issue that arises.
Residential Water Cleanup Indianapolis
If you're facing a flooded basement, broken pipe, or other water damage emergency, our technicians are available 24/7/365 to take care of any type of water damage.
Our residential water cleanup services involve extraction, drying, and disinfection. Utilizing advanced equipment, we remove excess moisture and dry your floors, walls, and furniture.
The length of time it takes for your home to dry depends on the severity of the damage. If only small areas have been affected and only contain a few items, drying should take no more than one week for all affected areas to meet dry standards.
Conversely, if the damaged areas are larger, it may take longer for drying to complete. Depending on how much contamination has occurred and the severity of structural damage, this process could take up to 72 hours. During this time we use antimicrobial sprays and HEPA vacuuming in order to make your home safe for your family.
Commercial Water Cleanup Indianapolis
Commercial water damage can be caused by a number of circumstances, such as weather-related floods, leaky roofs, pipe bursts, and appliance ruptures. Any one of these events can have devastating results for your business and hinder its ability to function normally.
Preventing water damage requires having an emergency plan in place and being prepared for any situation that may arise. It's essential to hire our team who can handle your crisis quickly and effectively!
No matter the source of your commercial water damage, our team of professionals is here to assist. We can eliminate all standing water, decontaminate affected areas, and help get your business up and running again!
Call Us Now For Your Free Estimate!
If your home has suffered from flood damage, mold growth, fire damage, or any combination thereof, professional help is likely needed. We are ready to assist in restoring your property back to its former glory. Give us a call today for your FREE estimate!
Our water cleanup services in Greater Indianapolis are unmatched. We provide a comprehensive selection of services such as water and fire damage restoration, mold remediation, contents restoration, and specialty cleaning for both commercial and residential properties.
Our state-of-the-art equipment and highly trained staff are at your service 24 hours a day, 7 days a week. Plus, we have an attentive emergency response team that's prepared to respond immediately in case of an emergency. Our water damage repair and restoration services are available to Greater Indianapolis residents in both residential and commercial settings.
Water Damage Restoration Indianapolis
31 E Georgia St, Indianapolis, IN 46204
(317) 793-3670